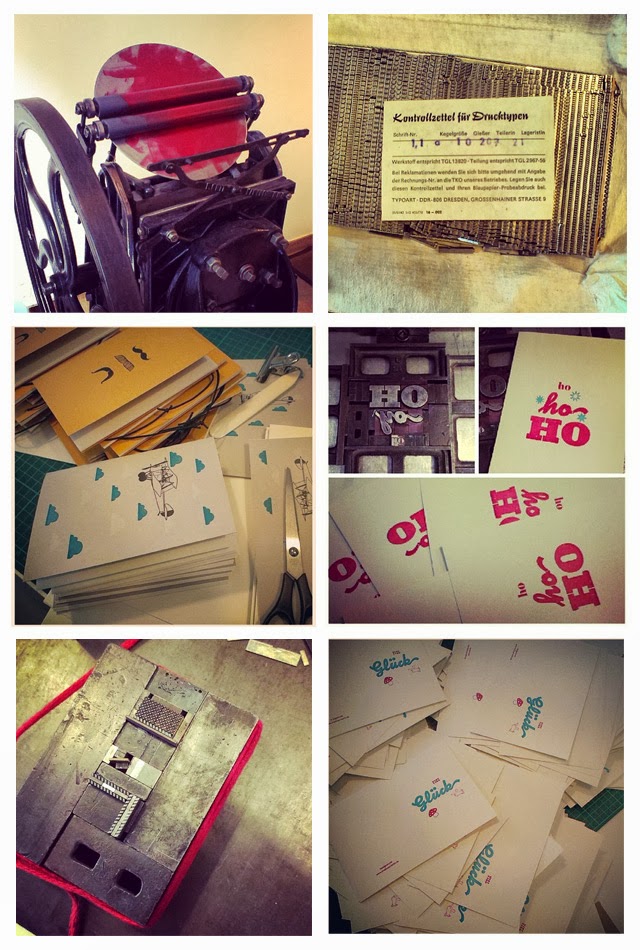 Ich glaube ich bin im Flow. Die Arbeit hat mich gepackt. Nicht im negativen Sinne, eher so wie beim Joggen. Der Anfang ist anstrengend aber nach einer Weile läuft man von allein. Die Tage wechseln zwischen Bestellungen verpacken und Karten drucken, neue Ideen drängeln sich dazwischen, interessante Leute kommen vorbei und ehe man sich versieht sind wieder Karten zu drucken und Bestellungen zu verpacken.
Um das stille Eintüten und Verpacken etwas aufregender zu gestalten schaue ich gern Vorträge wie z.B. Ted Talks, Videos der Typo Konferenz, der Republica oder auch von den Creative Mornings. Drei davon haben mir extrem gut gefallen, es geht um die Work-Life Balance im Kreativbereich. Die, Hand auf's Herz, es ja nicht wirklich gibt, denn dummerweise/glücklicherweise ist die Arbeit der meisten Kreativen ja auch ihr Hobby und demnach arbeiten sie eigentlich 24/7.
Es müßte also eher Work-Work Balance heißen, meint Ted Persson in seinem Talk und spricht über Tricks die Arbeit in happy work und happyhappy work einzuteilen um den Spaß am Machen zu behalten. Seinen Tipp "give yourself a cliffhanger" finde ich extrem einleuchtend und lege Euch hiermit den Talk sehr ans Herz. Und wenn ich schon dabei seid, schaut Euch noch Joe Stewart an ("it's all about inspiration") und Nick Campbell (don't be the best – find a mentor"). Alle Talks sind zum Thema Happiness im Rahmen der Creative Mornings gehalten worden. In diesem Sinne eine schöne neue Woche euch allen!
——–
I am in the flow. Days change from printing to packaging and printing and packaging again but there's even some time to work out new ideas. Feels good and right. While my fingers are busy with packaging orders I try to fuel my head with some clever business advice.
I enjoy watching ted talks or videos from Creative Mornings and I thought I'd share my favourite three with you. So far I liked Ted Persson's talk the most, he speaks about Work-Work Balance (no this is not a typo) in creative business and how to keep the fun at work. Check out Joe Stewart ("it's all about inspiration") and Nick Campbell (don't be the best – find a mentor") as well, they have some great tips how to maintain creativity and how to stay true to good design. All talks were hold under the theme Happiness at Creative Mornings. Happy new week everybody!