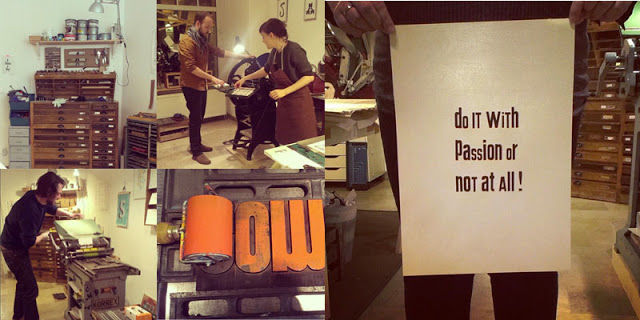 Beim Anschauen der Fotos von den vergangenen Workshops hat sich ein vorfreudiges Gefühl eingestellt.
Es macht Spaß Euch zu zuschauen, wie ihr eurerseits Spaß am Setzen und Drucken gewinnt. Oft war es spät und draußen schon dunkel als die letzen Farbreste von den Walzen gewischt wurden.
Wegen dem kleinen neuen Familienmitglied hatte ich die Workshops fast 2 Jahre ausgesetzt. Jetzt soll es bald weitergehen!
Nur um ehrlich zu sein: Bevor ich euch zeigen kann, wie die Druckmaschinen funktionieren muss ich jetzt erst selbst wieder herausfinden, wie "das mit dem Drucken" noch mal geht. Die Pause war doch recht lang und heimlich frage ich mich, ob ich mich wohl an die ganze Druck-Terminologie erinnern werde.
Aber ich freue mich, dass es wieder losgeht.
Über den Sommer hatte ich genug Zeit neue Ideen für schöne Workshops-Themen zu sammeln. Sie sollen jetzt noch besser zu euren individuellen Interessen passen. Außerdem sind auch kürzere Zeiteinheiten für die Schnupper-Drucker unter Euch geplant.
Wir müssen nur zuallererst die Kita Eingewöhnung im September schaffen. Danach lege ich die Termine fest und es geht vermutlich Ende Oktober los.
Bis dahin helft mir bitte bei der Planung: Was interessiert euch, was möchtet ihr lernen, was wollt ihr gern drucken?
Dieses Online Formular dauert 1 Minute und hilft mir sehr in der Vorbereitung. Bitte füllt es aus, hier klicken.
Tausend Dank und bis bald!
——-
I paused the Letterpress Workshops for a long long time. Now I gather ideas and inspiration for new Workshops with some more different topics. As soon as my daughter starts daycare regulary the workshops will be back.
If you want to be involved and share your interests so that the workshop is the right fit for you I kindly ask you to fill out this form. It only takes a minute and means a lot to me. I apologize it's in german. 🙁