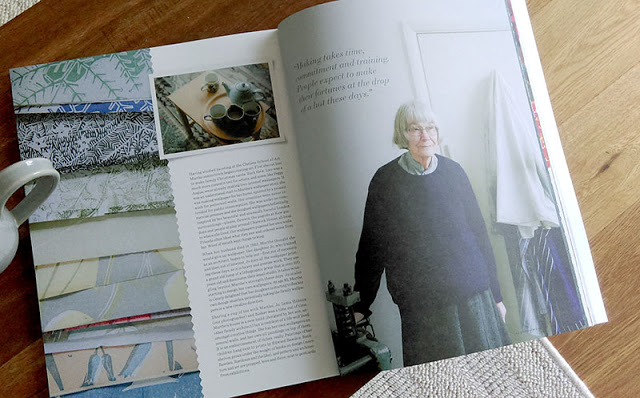 Neulich fiel mir eine ältere Ausgabe des Uppercase Magazins in die Hand und ich blieb bei dem Artikel über diese unglaublich inspirierende englische Dame hängen. Marthe Armitage schneidet ihre Motive in Linol und druckt sie als Rapport zu einer Tapete.
Da ich sehr gern und sehr genau zuschaue wenn andere Leute drucken (anscheinend entwickelt man eine Art Druckpressen-Nerdyness mit den Jahren) habe ich gegoogelt und auf Youtube tasächlich ein schönes Portrait über Marthe Armitage gefunden. Ihre Technik ist ein klein bißchen verrückt. An der Stelle, als sie zeigt wie sie die Farbe anmischt, die Druckstöcke aneinander druckt und wie sie einige Bleistiftmarkierungen setzt um den Anschluß zu gewährleisten habe ich mehrmals das Video vor-und zurückgespult.
Schaut selbst, es ist zu schön.
Was machen wir wohl mit über siebzig Jahren?
——-

I recently flipped through an older issue of the Uppercase Magazine and this article about Marthe Armitage caught my eye. She is an inspiring british lady who makes wallpapers from her linocuts. This is a crazy technique because she has to repeat her prints several times on the wallpaper while rerolling them and obviously doesn't want to have any gap.
I get a little nerdy when it comes to the details about printmaking so I searched and found a nice video where you can see her and her daughter printing. I love her british studio, watch yourself!