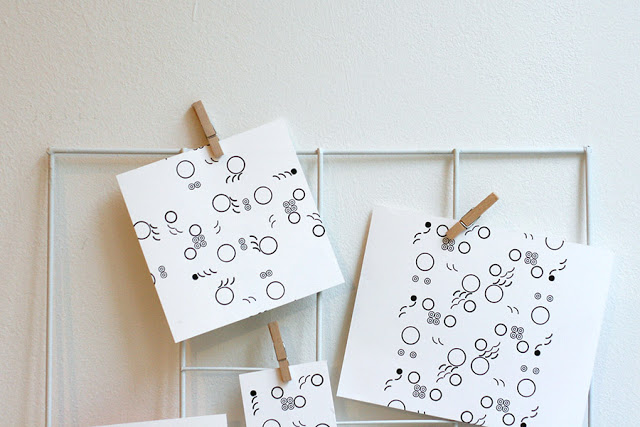 Irgendwann Anfang des Jahres dachte ich, ich "sollte" mich dieses Jahr mal mit Mustern beschäftigen. Ich sehe über die sozialen Kanäle viele Kreative, die tolle Muster auf Stoff stempeln und das ließ mich nachdenken, ob ich mit meinem vorhandenen Material – also Buchstaben, Satzzeichen, Ornamente etc. – ein Muster entwickeln und drucken könnte.
— Way back in January I thought about the work I want to explore more of this year. I like seeing others carving blocks and printing patterns on fabric and I was wondering if I could compose a pattern with my metal type ornaments.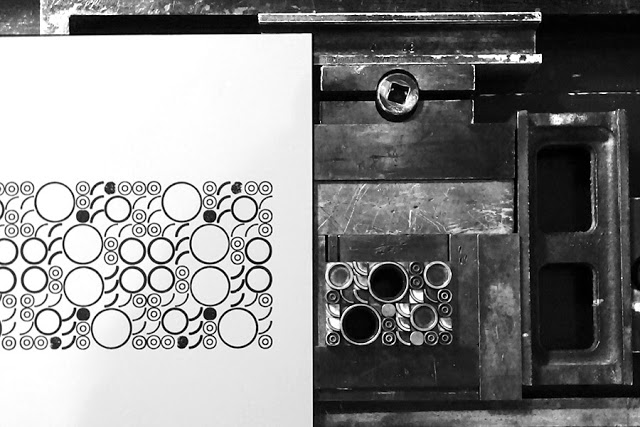 Ich begann also die grafischen Elemente, die ich eh schon sehr gern mag, zu einem kompakten Block zu arrangieren und mehrmals nebeneinander zu drucken.
— I took all my circles, quadrants and dots, build a block and printed the design side by side in repeat.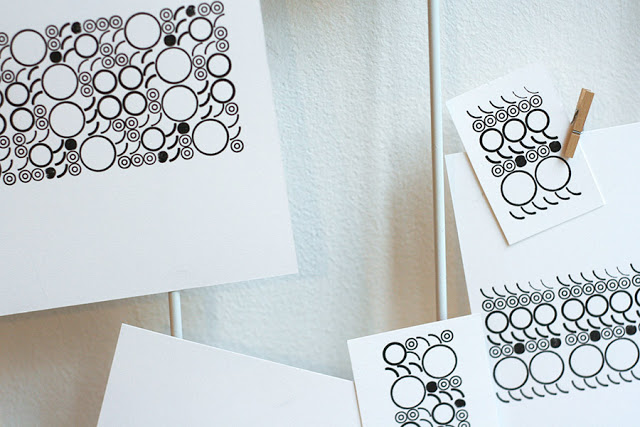 Der Block aus Kreisen und Viertelkreisen war anfangs recht kompakt, ich fand das sah aus wie ein Teppich mit Fransen. Das Muster war mit definitiv zu voll. Im Nachhinein ärgere ich mich, denn ich hätte das Layout mit ein wenig Mehraufwand gut als Rückseite für Visitenkarten nutzen können.
— I soon rearranged the composing, did some prints again, didn't liked it and decided on a more loose layout.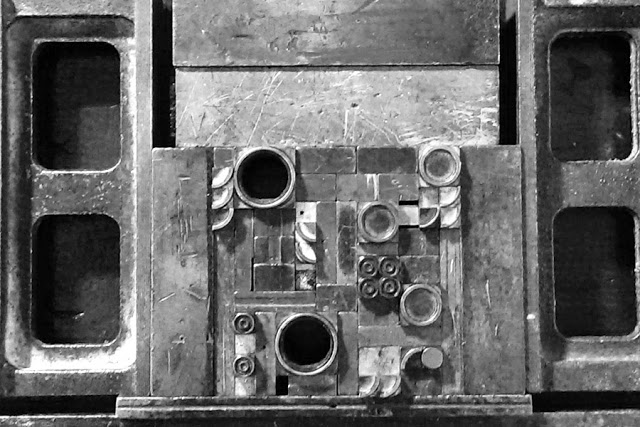 Aber ich hab es Stück für Stück auseinandergenommen, lockerer gesetzt und die Zwischenräume mit Quadraten und Blindmaterial aufgefüllt.
Langsam begann ich zu verstehen, dass es hilfreich ist wenn der Block eine quadratische Form hat. Dann kann man das Papier beim Drucken drehen und auch nebeneinander und übereinander drucken. So kriegt man noch mehr Variation ins Muster und es ist nicht immer nur der gleiche Rapport.
— I turned the paper upside down with every second print to achieve more variation in the repeat and learned I need to have a square block and a square-size paper to work out an overall print.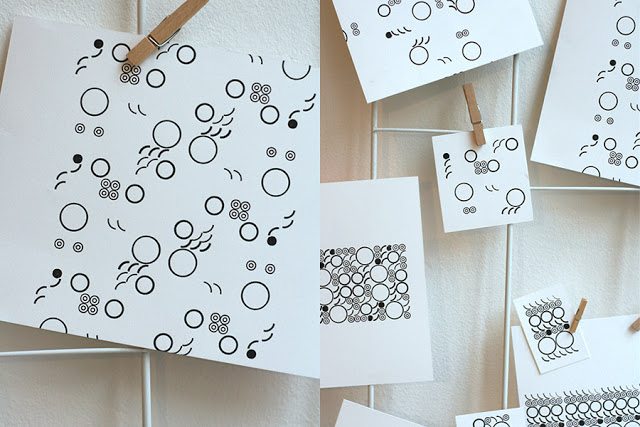 Am Ende dieses Tages war ich ziemlich zufrieden mit meinem Exkurs in die Musterwelt und habe meine Freundin Nadja (Siebdruckerin & Pattern Designer) nach einem Buch über die technische Herangehensweise bei der Musterentwicklung gefragt. Sie hat mir auch eins ausgeliehen und ich werde es am Wochenende mal durcharbeiten.
— At the end of the day I was pretty satisfied with what I accomplished. I asked my friend Nadja (screen printer and pattern designer) for more information about the technical side of pattern development. She lend me a book that's now on my to-read-list for the weekend.