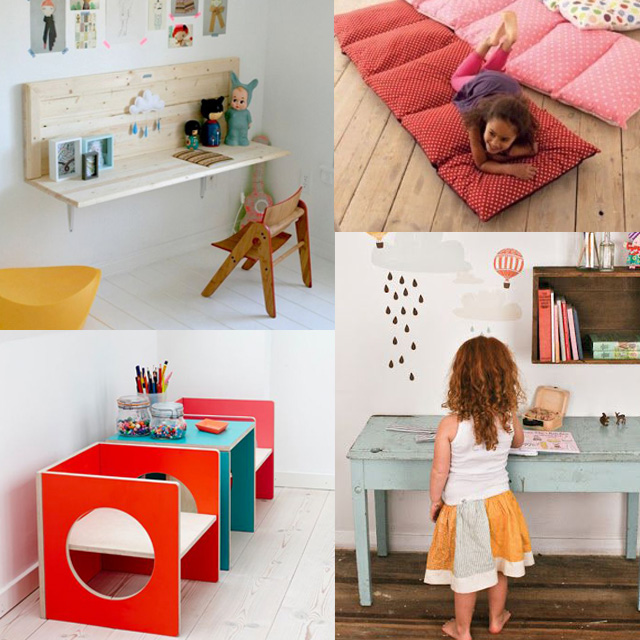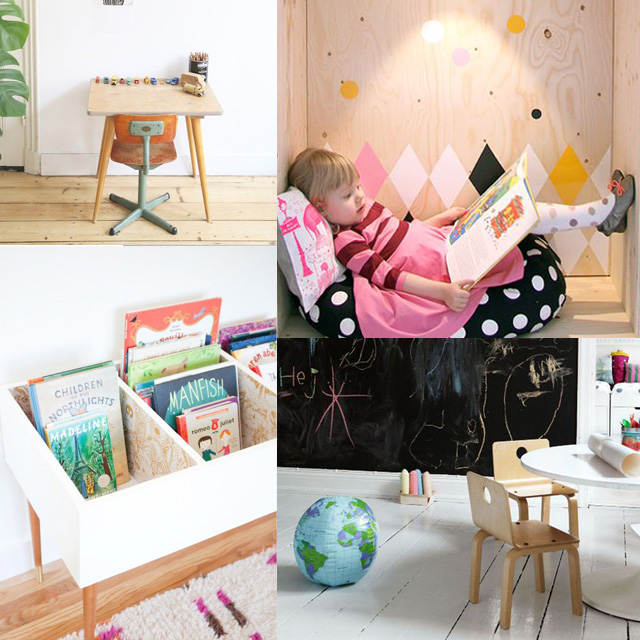 Wandtisch, Bodenkissen, Hocker-Sitzgruppe, Basteltisch, Vintage Schulbank, Kuschelecke, Buecher Schraenkchen, Kinder Stuehle
So wirklich arbeiten kann ich mit der Kleinen im Gepäck eigentlich nicht. Sie interessiert sich sehr für die Dinge die ich mache und und möchte es mir am liebsten gleich tun. Auf dem Laptop tippen, Papier falten, Buchstaben sortieren, mit der Schere etwas schneiden, Klebeband aufkleben… die Liste ist lang.
Wirklich Kinderfreundlich ist mein Atelier auch bisher nicht. Ich brauche dringend einen geeigneten Platz wo sich sich ein bißchen selbst beschäftigen kann. Vielleicht einen Kinderhocker mit Tisch zum Malen, noch einen Teppich gegen die kalten Fliesen und eine kuschelige Matratze zum rumhüpfen und schmökern in ihren Lieblingsbüchern. Eine Tafel wäre auch schön. Meine Inspiration hab ich mal zusammen getragen.
Teilt ihr eure Werkstatt oder Bastelecke mit euren Kindern? Wie ist die gestaltet und lassen sie euch arbeiten?

Mich interessiert das brennend, hinterlasst gern eure Anregungen und Erfahrungen in den Kommentaren. Dankeschön!

Do you share your workspace with your kids? We have to make some changes to get a toddler friendly (craft)room. Here's my inspiration on Pinterest.