Ich habe vor 8 Jahren angefangen zu drucken. Ich hatte schon einige Holz- und Bleibuchstaben während meiner Uni-Zeit gesammelt und freute mich darauf diese mit meiner ersten Druckpresse, der Adana abzudrucken. Da ich Schrift generell sehr spannend finde, war irgendwie von vorn herein klar, dass ich weitere Schriften anschaffen würde, das machte mir auch unheimlich Spaß.
Ich mag gern diese Puzzlearbeit, die zum Setzen einer Form nötig ist und ich mag auch, dass mich der Bleisatz einschränkt. Ich kann nur aus meinen vorhandenen Schriften wählen und muß meine Ideen und Layouts daran anpassen.
As I started letterpress printing I was eager to finally print the letters I had collected over the years on university. I am totally enthusiastic about type and it was no question to stop collecting fonts. I very like the puzzle-ish aspect of setting up the chase and I enjoy touching each letter and feeling the surface.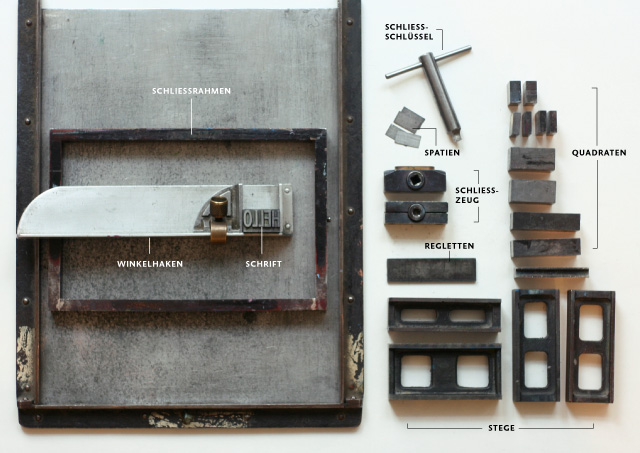 Möchte man im Letterpress mit Holz-oder Bleisatz arbeiten, braucht man allerdings nicht nur die Schriften (in verschiedenen Punktgrößen), sondern vor allem auch jede Menge Blindmaterial und Stege in verschiedenen Größen. Die Spatien werden zwischen die Buchstaben gesteckt um sie zu sperren oder um Wortabstände zu bilden und mit den Quadraten füllt man Zeilen auf. Dann gibt es noch Regletten für die Zeilenabstände und für die Leerräume im Schließrahmen hat man Stege. Das alles braucht natürlich viel mehr Platz, es muß in Schränken und Setzkästen verstaut werden. Üblicherweise entwickelt man eine Sammelleidenschaft und es bleibt nicht nur bei einer Handvoll Schriften.

What didn't occurred to me was the fact that you do not only need the type you also need a lot of spacing material that goes in between the letters, words and lines. Not only grew my collection of type but the non-printing material took up a decent amount of space as well.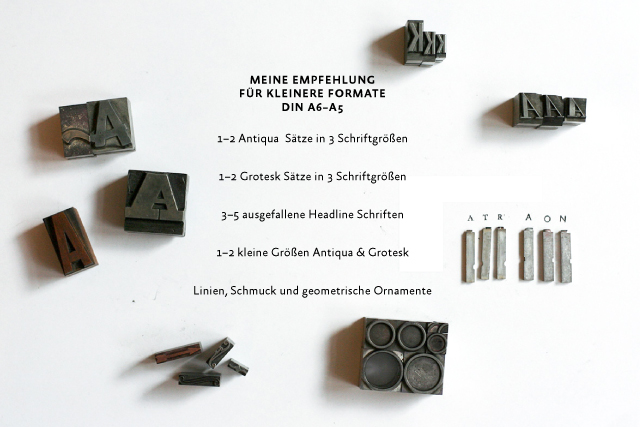 Ich habe einige Schriftsätze online gekauft, andere über eBay ersteigert und so manche Setzschublade aus Druckerei-Auflösungen bekommen. Von den letzteren hätte ich die Hälfte lieber nicht genommen. Im Nachhinein ärgere ich mich über diese unüberlegten Anschaffungen. Daher habe ich mir folgende Regeln auferlegt, um im Zukunft nur noch Bleisatz anzuschaffen, der zu meinen Anforderungen an Grußkarten und kleine Poster passt: Antiqua oder Grotesk Schriften in 3 Größen (24/36/48 pt), keine Schreibschriften mehr aber gerne noch Kreise, Dreiecke, Linien.
I definitely bought type that I don't use and this bothers me a lot. Over the last years I noticed which kind of type I tend to use the most and I came up with some style and size guidelines for my future purchases. This means no script fonts but serif & sans-serif fonts in 3 sizes like 24/36/48 pt and some more lines, ornaments and graphic elements. The overall rule: only buy a font you truly like.